When we first started the Interrobang Departure just over a year ago, we named ourselves in what seemed to us a logical fashion: we used to be a sketch group called Interrobang, now we were doing more, so we called ourselves the Interrobang Departure.
But a few things happened over the last year—we began to open our doors to new membership, we gathered some attention with God Particles and Lady into Fox, and something became clear: the name wasn't helpful.
We are, of course, very fond of the name, but the unusual phrase often received the simple "smile and nod," or over the phone, "how do you spell that?"—not the reaction we were looking for.
So we began the search for a new name, one that captured our feelings for what this company is and can be, and the kinds of stories we want to tell. With special help from Ken Burns, we came upon The West.
The West is as much an idea as an actual place. It's a place that holds both ancient and modern mythologies, it's a place that was shaped by imagination and bravery. The West is a symbol of freedom and adventure. The West is plains, mountains, deserts, forests, rivers, oceans, in short: everything. The spirit of The West is the spirit that took us to the Moon. It's bigger than a simple "western," it's a mindset.
Our mission is the same, our beliefs are the same, our membership is still growing. We are the same people we always were, we have just found a better way of introducing ourselves. We hope you're excited, because we certainly are.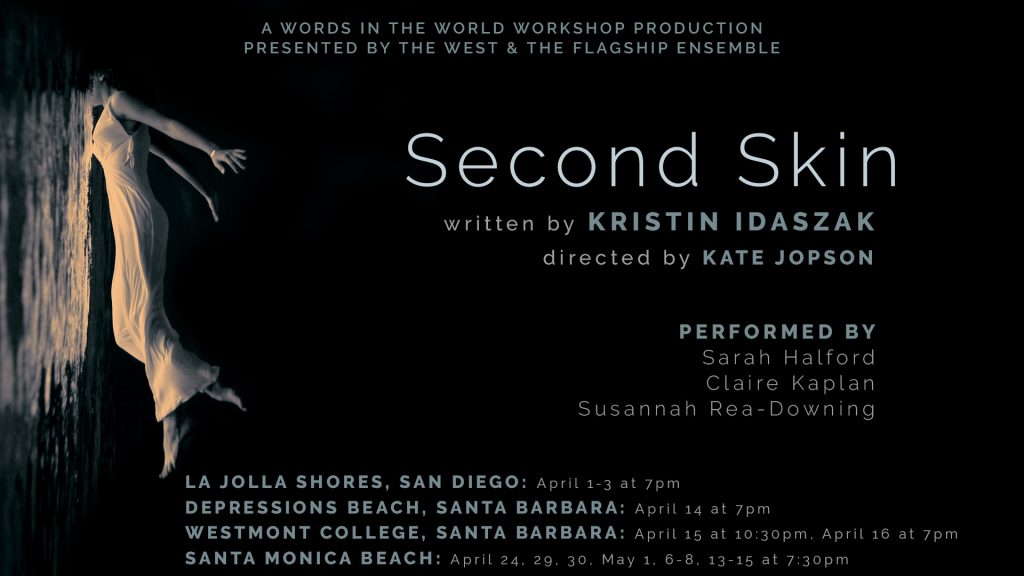 We are also thrilled to announce our partnership with The Flagship Ensemble to produce Second Skin. Performed on the beaches of Southern California, Second Skin takes audiences back to the origins of theater as stories told around a campfire. It is directed by our good friend Kate Jopson and features our very own Claire Kaplan!
When Quinn learns her estranged mother is dying, she returns to a home she fled long ago.
As she cares for her mother, Quinn wrestles with disturbing childhood memories, her mother's secrets, and strange occurrences that echo her mother's Irish bedtime stories.
Told in three interconnected monologues, Kristin Idaszak's Second Skin investigates the fraught relationship between mothers and daughters, and how one mistake can reverberate across generations.
The production will open in April on the sunny beaches of La Jolla, and over the next six weeks, tour to Santa Barbara and Santa Monica. Tickets, performance locations, and more information on the production can be found on the homepage!